Coroner identifies Coaldale man killed in crash (Click here)
Saved by blood donations not once, but twice
Saturday, January 14, 2017
By Amy Miller amiller@tnonline.com


Blood: It runs through our veins, keeping us alive.


We don't think about it daily, nor do we realize just how important it is.


But to someone who is seriously injured, has cancer or has some other medical emergency, this common component found in all of us may be the difference between life and death.


For former Times News editor, Bob Urban, blood donations saved his life not once, but twice.


"When I was 26, I passed out at home," the former Coaldale and Summit Hill native said.


Urban, who was working at the Pottstown Mercury at the time, was rushed to the hospital and learned that he had a duodenal ulcer that had burst.


"I was in bad shape," he said.

Read more...Click me...
Coaldale owed $100K in trash fees
Friday, January 13, 2017


Some residents haven't paid their bills in 10 years


By Chris Reber creber@tnonline.com


Coaldale residents may want to check the last time they paid their trash bill.


In an effort to collect more than $100,000 worth of residents' overdue trash bills, the borough has hired a firm that specializes in collecting overdue taxes for municipalities.


Borough council officially named Portnoff Law Associates Ltd. of Norristown as an assistant solicitor on Tuesday. Portnoff's job will be collecting sanitation bills from property owners who have not paid despite repeated warnings from the borough.


Council voted 7-0 in November to hire Portnoff.

Read more...Click me..'
NOTE: Chad Trubilla is the son of Coaldale native Nick Trubilla, PVHS Class of 1965'

Hometown native promoted in Navy


Tuesday, November 8, 2016


A Hometown native has been promoted in the U.S. Navy.


Lt. Cmdr. Chad Trubilla, a native of Hometown, was selected for promotion to the rank of commander this year.


He was also picked and slated as the prospective executive officer, and subsequently, the prospective commanding officer for the guided missile destroyer USS Rafael Peralta DDG 115, which is one of the Navy's newest commissioned Arleigh Burke Class Destroyers.

Read more...

nick trubilla pvhs class of pvhs1965 ---2016/nov/08/hometown-native-promoted-navy
Kralik found guilty in Coaldale killing
Wednesday, June 22, 2016


A jury found Stanley E. Kralik, 18, of third degree murder, in the beating death of Corey M Samuels.


The Schuylkill County jury deliberated just under two hours.


Kralik was also charged with aggravated assault, robbery, conspiracy, and theft.


A pre-sentence investigation before sentencing on Aug. 16.


Kralik and co-defendant Oliver L. Trizarri are charged in the January 2014 death of the Coaldale man.


Kralik told police that on Jan. 20, 2014, in the woods, Trizarri and Samuels argued, then fought.


y.
Trial opens in Coaldale man's death
Tuesday, June 21, 2016

Testimony: Accused killer told classmates he 'killed someone'
By Chris Parker cparker@tnonline.com


Corey M. Samuels suffered a crushed jaw, broken nose and stab wounds in the back of his skull as he died in the snow on the night of Jan, 20, 2014, in the woods at the end of Miner Street in Coaldale.


Later that month, then 16-year-old Stanley E. Kralik told a classmate he killed Samuels, 24, according to testimony on the opening day of Kralik's murder trial in Schuylkill County court Monday.


The trial continued today before Judge John E. Domalakes, with testimony from Oliver L. Trizarri, 22, of Reading, who on Feb. 19 pleaded guilty to conspiracy and third degree murder.


Police believe Kralik and Trizarri lured Samuels, a Marine who served in Afghanistan and Haiti, into the woods and beat him to death.


Read more...
Panther Valley board appoints Coaldale officer to open seat
Saturday, June 11, 2016
By Chris Reber creber@tnonline.com


The Panther Valley School Board has chosen a veteran Coaldale Borough police officer to fill a vacancy left when one of their members resigned.


Keith Krapf was appointed to the school board Thursday night by a close vote. Three candidates were nominated for the position.


Krapf currently serves as a sergeant in the Coaldale Police Department, and as the department's officer in charge. Among the reasons he cited for running for the board was the fact that he has a child in each of the district's three schools.


"I just feel I would be a good fit. I hope I can make some good decisions to help out the district," he said.


Krapf replaces director John Williams. Williams resigned from the board last month, with just under two years left in his term.


Krapf's wife, Angela, has served on Coaldale Borough Council for several years and was recently appointed as council president.


Krapf was elected by a close margin — beating out nominee William Mansberry and Gwen Collevechio by a 4-3-1 vote. Dan Heaney, Joseph Faenza, Renee DeMelfi and board President Anthony DeMarco voted in favor of Krapf.


Wayne Gryzik, Gary Porembo and Brian Dolena voted for Mansberry. Irene Genther supported Collevechio.


DeMarco encouraged the candidates who did not get the position to consider running for the board in 2017.


"I want to thank everybody who put in. This was a tough, tough vote. Everybody did fantastic. I'm looking forward to seeing each and everybody going to run, and looking forward to seeing everybody in two years," he said.

Source with photo...
Man charged with assaulting Coaldale officer
Friday, June 3, 2016
By Kathy Kunkel kkunkel@tnonline.com


A Pottsville man wanted for assaulting a Coaldale Police officer on Wednesday morning in Tamaqua is behind bars.


Jonathan Michael Pauly, 21, of 60 Mill St., Pottsville, was arrested by Tamaqua Police at 10:30 p.m. Thursday at 203 Hunter St., Tamaqua, after officers received a tip on his whereabouts. They were assisted by officers from Coaldale and Rush Township.


On Wednesday, as Tamaqua Police were dealing with an accident involving two young girls struck by a car, Coaldale Police Sgt. Keith Krapf responded to Tamaqua to assist with a call about a prowler in the 100 block of Washington St.


Krapf spoke with the caller, who said two people had been prowling around his home and then went into a wooded area south of his home.


Krapf went to the wooded area and saw two men, who said they were looking at the accident scene. One was identified as Edward Pauly and the other man said he didn't have any identification on him.


The sergeant saw a multicolor backpack on the ground and asked the unidentified man if it was his.


That man, later identified as Jonathan Pauly, grabbed the bag, reached inside and began pulling something out.


Not knowing what Pauly was retrieving, Krapf ordered him to remove his hands.


When Pauly refused, the officer told him he was being arrested and took his arm.


Pauly shoved Krapf, almost pushing him down the steep embankment. As he attempted to place handcuffs on Pauly, Krapf was pushed again. As he regained his footing, Pauly tried to swing him down the cliff, but lost his footing, tumbling to the ground below, near the railroad tracks.


Pauly was able to pick himself up and fled the scene.


Other officers arrived and searched the area, but Pauly was already gone.


Pauly was taken to the Schuylkill County prison in Pottsville on an outstanding warrant issued by the county adult probation office.


He was scheduled to be arraigned Friday morning before District Judge Stephen Bayer on charges of aggravated assault, simple assault, reckless endangerment and resisting arrest.
Coaldale holds Memorial Day services
Sunday, May 29, 2016


The Panther Valley High School Band plays Sunday during Coaldale's Memorial Day service.


By Jarrad Hedes jmhedes@tnonline.com


L. Marc Burlile Sr. served three tours overseas, two in west Germany and one in Korea, but the retired corrections officer knows what it's like to return home.


Many who left their homes for battle, however, never did and for that reason, he said, Memorial Day is a solemn remembrance of their legacy.


Burlile, Schuylkill County resident and commander of American Legion Department of Pennsylvania District 13, was the guest speaker Sunday at two services in Coaldale sponsored by the town's United Veterans Organization.


"Freedom ranks among the greatest gifts known to man, but like anything of value it has its price," he told the crowd. "Our understanding of freedom may be limited, but our gratitude to those who provide it is unending."


Among the questions pondered by Burlile was how to quantify the sacrifice made by the men and women of the Armed Forces?


While there is no one answer, he offered a few suggestions.


"Count number of deaths in service to the country, count the number of notes in Taps, count the number of Little League games a boy's father would not be there for or the number of walks a mother will not be able to go on with her daughter," he said. "Add that up and it will give you some idea of the sacrifices that are made for our freedom. What you can't count is the grief in a mother's heart when they find out their child is not coming home from battle."


During the service, guests heard the names of all Coaldale veterans who have died in the past year.


They are Margaret Arner, Vern J. Balliet, Joseph Cipko, Thomas Dorian, Glenn Flecknoe, Michael J. Frendak, Charles "Banty" Herring, Russell R. Hill, Andrew Hosak, Steven Kacik Jr., Nicholas King, William Nesterak, Margaret M. Petrucci, Martin Polakovic, Philip Price, and John M. "Jack" "Moe" Williams.


Coaldale Mayor Joel Johnson called Memorial Day one of the most solemn days in our country.


"It's a day when Americans, regardless of ideology, race, creed or political persuasion, join together to remember the sacrifices of those who answered the nation's call," Johnson said. "The significance of this day is sometimes confused or distorted. The true meaning of Memorial Day is sometimes distant, vague and lost in commercialism. We often fail to recognize the magnitude of the deeds of the men and women who held true to the notion that evil and tyranny must not prevail."


The Panther Valley High School Band and the school's JROTC participated in the program.


Jimmy Rickert, Coaldale American Legion post commander, was master of ceremonies.


The first of Sunday's services was held at the Seek Veterans Memorial with the latter ceremony at Coaldale Veterans and Women's Memorials.


"Those who are gone we can no longer thank verbally, only in prayer," Burlile said. "Let us not take their sacrifices for granted and ensure their memory does not fade away."

Source: With Photos.
Coaldale High trophies on display this weekend
Friday, May 27, 2016
By Chris Reber creber@tnonline.com


After years of being locked up, out of public view, the trophies that celebrate history of Coaldale High School will be on display this weekend at borough hall.


Borough officials will have the building open for members of the public to look at the trophies from the era that Coaldale had its own high school.


The trophies were recently moved from the old high school building, which is now owned by the borough and used for head start and youth sports programs, councilwoman Yvonne Stoffey said.


"We never did this, they were at the high school, locked up. No one has seen them in forever," she said.


While they look for a permanent home for the trophies, borough council decided to give the public a chance to look at a sampling of the old trophies. This Saturday, borough hall will be open to the public from 4-7 p.m. The date was chosen to coincide with the 55th reunion of Coaldale High School's 1961 reunion, as well as the Carbon County Sports Hall of Fame induction. Three Coaldale natives, Joe Terry, Joe Holubek and Allysa Vavra are being inducted into the hall this year.


"People are coming in from out of state. hopefully they'll come over after the reunion," Stoffey said.


The trophies will also be on display Sunday after the borough holds its annual Memorial Day service. The service is scheduled for 2:30 p.m. Sunday. Light refreshments will be served.


Residents will also be able to visit the borough's veterans' memorial, which is located immediately adjacent to borough hall.
Coaldale reorganizes, kicks out president
Thursday, May 26, 2016
By Chris Reber creber@tnonline.com


Coaldale Borough Council decided to replace its president Wednesday night after he missed a second consecutive meeting.


Thomas Keerans is still a member of council.


The council voted 4-0 at a sparsely attended meeting to reorganize and appoint new officers.


Council members Keerans, Michael Doerr and Francis Hutta were absent from the meeting, as well as Mayor Joel Johnson.


The remaining members nominated and confirmed Angela Krapf as president by a 4-0 vote.


Council also voted 4-0 to appoint Claire Remington to serve as vice president, though technically that was not a replacement. Doerr was the previous vice president, but submitted a letter of resignation from that post before the meeting began. He will continue to serve on council as well.


The members who voted to reorganize said that they were upset that Keerans has missed two meetings, including Wednesday's special meeting.


"I won't abandon my spot. We ran to do good for the borough, and that's what we're going to do," Krapf said.


Remington has criticized Keerans and Doerr for making purchases on behalf of the borough without council approval, specifically entering into a multiyear contract to provide Internet for a time clock that has not been installed.


"I don't feel he's being ethical with the procedures as a council president, or as a council member, both of them," she said.


Contacted after the meeting, Keerans would not say why he hasn't attended the two recent meetings. Asked if he would consider attending again, he was noncommittal.


"I rebuilt this borough once, and I'm not going to do it again," Keerans said. "I'm sick and tired of being sick and tired."


Keerans said that he is concerned that the new council will try to hire a new full-time police officer and be unable to pay for it.


Council did agree to advertise for an officer position Wednesday night. The deadline for applicants is June 25.


The borough's treasurer said the position could be paid for using the money the borough will save on part-time officers. Remington said she is also seeking a grant that will cover up to 75 percent of an officer's salary for one year.


The board also agreed to place an advertisement seeking a new secretary. Applications for that position will be due before the council's June meeting.
Coaldale Memorial Day services set
Monday, May 23, 2016


The Coaldale United Veterans Organization will conduct Memorial Day services on Sundayat the Seek Memorial and at Coaldale Borough Hall.


L. Marc Burlile Sr., Commander of the American Legion's Pennsylvania District 13, will be the guest speaker at both events.


Burlile was born in Dayton, Ohio, oldest of Margaret J. Burlile's nine children. Growing up in Illinois, he worked for local farmers and was named a member of the National FFA Organization, achieving the chapter's Farmers Award.


He enlisted in the U.S. Army in 1976, completing basic training at Fort Sill, Oklahoma. While his initial military occupational specialty was in field artillery, throughout his 16 years of active duty he also served in the transportation, NBC Corps and provided support in campaigns in Lebanon, Grenada, Honduras, Panama, Semolina and Desert Shield/Storm. He completed three overseas tours, two in Germany and one in Korea.


His military awards include: the Army Achievement medal with Oak Leaf Cluster, Good Conduct Medal with Silver Knot, National defense Medal with bronze Star, Korean National Defense Medal, NCO Development Ribbon, Soldier's Ribbon and Overseas Ribbon with numeral 3.


Following active duty, he served an additional three years in the U.S. Army Reserve.


After leaving the Army, Burlile went to work as a corrections officer for the Pennsylvania Department of Corrections, retiring in 2006 from his position at SCI Mahanoy, where he worked for 17 years. He then graduated cum laude from the McCann School of Business and technology's administrative office course. He currently works for the Social Security Administration in Wilkes-Barre.


He has been a member of the American Legion since 1982, a member of Post 309 in Girardville. He has served as Post Commander, First Vice Commander, Post Adjutant, Post Service Officer, 13th District Deputy Commander, Eastern Judicial Section Adjutant at Department Level. Awarded the Pennsylvania Department Blue Cap in 2006, he was the first Legionnaire in Schuylkill County to receive the honor.


Married to Beth Ann Wenzel from Shamokin, the couple currently live in Fountain Springs.


The Seek service will be held at 1 p.m., followed by the service at borough hall at 2:30 p.m. In case of rain, there will be one combined event, at 2 p.m. at the Coaldale Complex.
Panther Valley flag ceremony planned for Thursday, May 19

Monday, May 16, 2016

The Panther Valley High School Junior ROTC will conduct a ceremony involving the raising of a garrison-size American flag at the Coaldale complex (old high school). The ceremony will take place at 10 a.m. Thursday.

Area veterans organizations and citizens are invited.

An ROTC cadet will speak on the history of the American flag. Korean War veteran William Gaddes will give a few remarks.
Coaldale house fire injures one
Saturday, May 14, 2016
Firefighters tackle a Coaldale kitchen fire DONALD R. SERFASS/TIMES NEWS


Read more...
Motorcyclist escapes injury in Tamaqua
Monday, May 2, 2016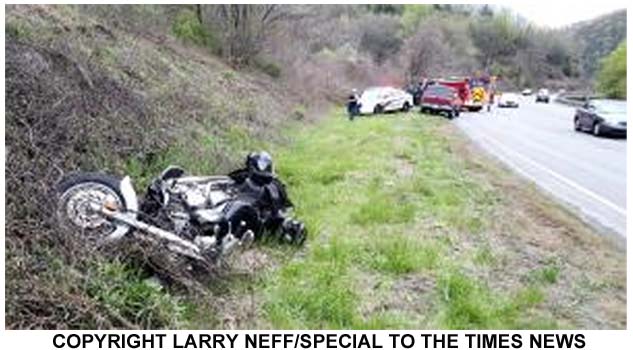 COPYRIGHT LARRY NEFF/SPECIAL TO THE TIMES NEWS

A motorcyclist escaped injury Monday evening when involved in a crash along Route 309 in Tamaqua.

The crash occurred at 6:10 p.m. as the biker identified as Wade Wenzel of Coaldale was traveling north and lost control while rounding a curve in the roadway.

His bike entered the right berm where he laid it down on a grassy area. Wenzel refused medical treatment at the scene.
Tamaqua fire police maintained traffic control at the scene. Tamaqua police are investigating the incident.
Coaldale paving project to begin
Sunday, April 24, 2016


Beginning Wednesday,there will be no parking allowed on Phillips Street in Coaldale from Fifth Street to East Street, and will last until completion of the re-paving project.


The re-paving project will run west to east, beginning on Fifth Street and ending on East Street.


Parking on Phillips Street will resume when the no parking signs are removed.
No death penalty in Coaldale beating
Tuesday, April 5, 2016
By Chris Parker cparker@tnonline.com


Schuylkill County Judge John J. Domalakes has determined that a Coaldale man's role in the beating death of Corey M. Samuels does not merit the death penalty.


Stanley E. Kralik, 18, faces trial on June 20. The trial is scheduled to begin at 9:30 a.m. in courtroom 3. Jury selection is scheduled for June 16.


A second man charged in the Jan. 20, 2014, killing, Oliver L. Trizarri, 22, of Reading, plans to plead guilty to third-degree murder and cooperate with prosecutors.


Domalakes determined Kralik should not face the death penalty after considering the results of a presentence investigation.


Both men are in the county jail without bail. Both are charged with first- and third-degree murder, criminal homicide, robbery/inflicting serious bodily injury, aggravated assault, theft and conspiracy in the death of Samuels, 24, also of Coaldale.


According to an affidavit of probable cause filed by Frackville state trooper Melissa Kyper, Trizarri and Kralik told Coaldale police that they and Samuels decided to go for a walk in the woods on the night of killing.


Kralik and Trizarri had argued with Samuels, who had walked away from them.


Police learned that no one had seen Samuels since that night, and turned the investigation over to state police on April 29, 2014.


On Sept. 6, 2014, human remains, later identified as Samuels, were discovered in the wooded area off East Miner Street in Coaldale.


His death was ruled a homicide.
The Carbon County Hall of Fame banquet will be held Sunday, May 29 at Memorial Hall in Jim Thorpe. The doors will open at 1 p.m.

This year's inductees are:

Coaldale - Allysa Vavra, Joseph Holubek and Joe Terry.

Palmerton - John Kleintop, Ted Plessl and Mike Dekan.

Lehighton - Jim Remaley, Monroe Berger and Rick Stroup.

Nesquehoning - Gary Barna, Nicole Hackenberg and Erick Hackenberg

Lansford - Joseph Jason, Donnie Fredericks and Ed Shubeck.

Jim Thorpe - Terry McElmoyle, Tricia McElmoyle

Summit Hill - Trevor Lawrence Jr., Tom Bonner and Dave Evans.

Tamaqua - Bob Schlosser, Aaron Frantz and Bill Sakusky.

Banquet tickets can be purchased from the following Hall of Fame committee members: Danny McGinley 570-325-3550, Emmett McCall 570-645-2093, Art George (610-826-2830), Jake Boyer (610-751-6634), Trevor Lawrence (570-645-4722), Bill Gardiner (570-669-6564) and Bob Gelatko (570-645-8652). Tickets are $35 for adults. For children under 12 the cost is $15. The deadline for tickets is May 8.
Mayor: Coaldale Council too big
Wednesday, March 9, 2016
By Chris Reber creber@tnonline.com


Does Coaldale Borough Council have too many members?


The mayor believes so, and is asking voters to support a petition to shrink the seven-member council to five.


Joel Johnson says that doing away with two council seats would make council more efficient and orderly. He proposed the idea at the board's regular meeting Tuesday night.


"It is my hope that a reduction in the number of council members would become a reality for Coaldale borough," Johnson said.


In a statement read to council, the mayor said he believes residents "desire to have a more orderly and cordial function" for borough council.


Under state law, boroughs with fewer than 3,000 residents can potentially reduce the number of council members to five or even three. First, a minimum of 5 percent of registered voters in the borough have to sign a petition. Then it goes before a judge in county court who ultimately makes the decision.


If the petition is approved, seats would be reduced as members' terms expire, giving each member a chance to run for a seat.


Johnson, citing the Schuylkill County Elections Bureau, said there are currently 1,260 registered voters in Coaldale. That means 63 signatures would be required for a hearing.


Council members have no say over whether a resident starts a petition. But several members offered their opinions about the idea of downsizing council, and they were varied.


"I think it's a great idea," Claire Remington said. She offered to help circulate the petition.


Harry Hontz Jr., Angela Krapf and Yvonne Stoffey all said that they do not agree with the idea to reduce the number of council members.

"There are way too many things to handle that are not getting done with seven of us sitting here," Krapf said.
Coaldale to leave regional board
Thursday, March 10, 2016
By CHRIS REBER CREBER@tnonline.com


Coaldale Borough Council has declined a request to continue as a part of a regional recreation commission.

Two representatives from the Eastern Schuylkill Recreation Commission visited the board on Tuesday to ask them to reconsider leaving the regional board.

The committee includes Middleport, Rush, Schuylkill, Walker and West Penn townships, the Tamaqua YMCA, and the Tamaqua Area School District.

Executive director Sarah Connely asked council members if they would rejoin the commission, or possibly meet to discuss it in the future.

Coaldale had contributed to the commission for more than a decade up until this year. In 2015, they appropriated $2,500 for ESRC.

Council member Angela Krapf, a member of the recreation board, said in all, the borough had given more than $30,000 in taxpayer to ESRC and had little to show for it.

"We would rather take their tax dollars and put it toward something instead of give it away when we're not seeing anything in return. We all talked about it, and it's been a long time that Coaldale hasn't benefited at all from it. That's our reason. it wasn't because of budgets," Krapf said.

Council will allow ESRC to continue to use the borough's volleyball courts — which were installed by ESRC — for its summer league.

Tamaqua Borough Council President Micah Gursky urged the board to give ESRC another chance.

He said grants are typically given to the municipalities that regularly attend board meetings.

"One of the challenges of the organizations, there are two representatives form each municipality a council member and a citizen. The people who show up at the meetings, obviously those are the things that are talked about," Gursky said.
2 injured in Coaldale collision
Sunday, March 6, 2016


Copyright Larry Neff/Special to the Times News


Two people were seriously injured Sunday afternoon in a crash at the intersection of Route 209 and First Street in Coaldale. The crash occurred just 2 p.m. as two vehicles impacted in the intersection with one rolling onto its roof.


Two people had to be extricated from the wreckage by Coaldale firefighters. They were treated at the scene by members of the Tamaqua ambulance and Lehighton paramedics before being transported to an area trauma center.


Route 209 was closed for two hours. Coaldale police are investigating the incident.
Coaldale town hall meeting set
Thursday, February 18, 2016


Coaldale Mayor Joel Johnson will host a Coaldale Town Hall meeting on Monday. His goal is to provide some transparency to the way government works and provide a way for the community to become more involved in the process by offering the opportunity to "provide positive feedback and opinions."


In addition to Coaldale residents, students from Panther Valley and Marian High Schools are also being encouraged to attend.


Guest speakers will be Rep. Matt Cartwright, who represents Pennsylvania's 17th Congressional District, and Jason Snyder, press secretary for the Pennsylvania Department of Drugs and Alcohol.


One of the topics to be discussed is the growing epidemic of heroin abuse and how it affects communities.


Johnson will speak about code enforcement, local ordinances, the street and police departments, and provide a review of 2015.


Light refreshments will be served and there will be a question-and-answer period.


The town hall meeting, which will begin at 6:30 p.m., will be held at the Angela Theatre, 113 E. Phillips St., Coaldale.
Coaldale murder suspect to be tried separately

Thursday, February 11, 2016

By Chris Parker TNEDITOR@tnonline.com

A Schuylkill County judge on Wednesday agreed to allow the murder case against Stanley E. Kralik to be dealt with separately from the case against another man also accused in the beating death of Corey M. Samuels two years ago.

But the severance request may be moot, Judge John E. Domalakes said, because the other man, Oliver L. Trizarri, plans to plead guilty to third-degree murder and cooperate with prosecutors.

Senior Deputy Assistant District Attorney Jennifer N. Lehman and Assistant District Attorney Keith D. Hoppes said prosecutors did not oppose the severance request.

Kralik, 18, of Coaldale, and Trizarri, 22, of Reading, are accused of beating Samuels, 24, to death on Jan. 20, 2014.
Read more...
.
..
.
..
.
.
..
.
.