CIVIC, BUSINESS AND FINANCIAL LEADER

THOMAS J. EVANS

Chairman Pennsylvania Turnpike Commission


No observance in COALDALE would be considered complete without the mention of its most distinguished citizen ---- Thomas John Evans.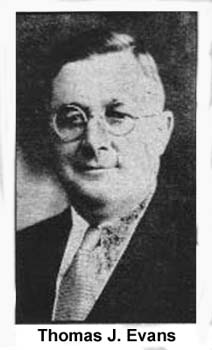 Young and old, everybody knows and revers " TOMMY JOHN " ---- the man whose very name is synonymous with the growth and development of the community.

The real beginning of Mr. Evans' illustrious career is founded in WALES, the land of his birth.

His parents, the late David and Mary Anna Evans, brought him to this country when he was only four years old. The family first established residence in WILKES-BARRE, later moved to PHILIPSBURG, CENTRE COUNTY, and finally, in 1893 settled in COALDALE.

At the age of eleven, "TOMMY JOHN" began his first job ---- a slate picker in the COALDALE COLLIERY Of The LEHIGH NAVIGATION COAL COMPANY.

His industrial record is one of constant progress and one that is quite familiar to the people of COALDALE and the PANTHER VALLEY. In 1912 he was named fire boss at COALDALE COLLIERY. The following year he had the distinction of serving as captain of the winning first-aid team in the initial contest conducted by the company. From 1916 to 1927 he served as general inside foreman at COALDALE COLLIERY. Then came his promotion to SUPERINTENDENT of RAHN COLLIERY, a position he held for four years.

He also served as a special research engineer for the company from 1931 to 1933. The broad general experience obtained in practical and supervisory capacities over the 38-year period qualified him well
for future undertakings. MR. EVANS early recognized the responsibility of the citizen to good goverment. As a result, he began an active participation in civic affairs upon the attainment of voting age. For 24 consecutive years he served as a mamber of the COALDALE BOARD of EDUCATION and presided over it for several terms.

"I signed many certificates," he says reminiscently. In 1933, at the urgent request of his friends, he announced his candidacy for SHERIFF of SCHUYLKILL COUNTY. He was elected by an overwhelming majority and served in the post from 1934 to 1938. He was named president of the PENNSYLVANIA SHERIFF'S ASSOCIATION in 1936 and served continuously until 1950 as a member of the STATE ASSOCIATION'S EXECUTIVE COMMITTEE. He is now a trustee of the organization. A stalwart in REPUBLICAN ranks, Mr. EVANS is still actively engaged in SCHUYLKILL COUNTY politics as assistant county chairman and member of its executive committee.

On May 15, 1939, he was appointed by GOVERNOR ARTHUR JAMES to membership on the five-man PENNSYLVANIA TURNPIKE COMMISSION ---- operators of the multi-million dollar super highway. Four years later, during the administration of GOVERNOR EDWARD MARTIN, he was named chairman of that body.

Today, COALDALE'S "TOMMY JOHN" is still the guiding hand behind this WORLD-FAMOUS 327-MILE TOLL ROAD which is grossing in the neighborhood of $20 MILLION ANNUALLY. In addition to his TURNPIKE position, Mr. EVANS devotes considerable time and energy to many other business activities. He is president of the DIME BANK and vice president of the CARBON TELEPHONE COMPANY in LANSFORD; director of the PANTHER VALLEY FINANCE COMPANYin LANSFORD; director of the SCHUYLKILL COUNTY CRIPPLED CHILDREN'S SOCIETY and past president of the SOUTHERN SCHUYLKILL COUNTY CHAPTER of the AMERICAN RED CROSS in
POTTSVILLE.

Fraternally, he is affiliated with the folling organizations: ST.DAVID'S SOCIETY, of SCHUYLKILL COUNTY, of which he is a charter member.

MAHONING VALLEY COUNTRY CLUB. of which he is a director and charter member.
PANTHER VALLEY FREE and ACCEPTED MASONS, No. 677
ROYAL ARCH CHAPTER, No. 177 TAMAQUA
PACKER COMMANDERY, KNIGHTS TEMPLAR No. 23 MAUCH CHUNK.
IREM TEMPLE, A.A.O.N.M.S. and IREM TEMPLE COUNTRY CLUB,
WILKES-BARRE.LEHIGH VALLEY SHRINE CLUB, ALLENTOWN.
GOOD HOPE COMMANDERY, KNIGHTS of MALTA, LANSFORD.
LOYAL ORDER of MOOSE, No. 411, POTTSVILLE.
AND THE COALDALE FIRE COMPANY.

Religiously, he is a member of the FIRST CONGREGATIONAL CHURCH IN COALDALE. Mr. Evans is married to the former SALLY JANE WEST, daughter ofthe late MR. and MRS. RICHARD J. WEST, of COALDALE.

They have one son, RICHARD, president of the PANTHER VALLEY INSURANCE AGENCY, and a granddaughter SARAH JANE, a student at BRIARCLIFF JUNIOR COLLEGE, BRIARCLIFF MANOR N.Y.

MR.EVANS' patience, understanding and kindness,together with his inspirational leadership, have endeared him to countless people in his home community and throughout the entire ANTHRACITE REGION.

THEY ARE PROUD AND THANKFUL THAT HE HAS BEEN REARED AMONG THEM.

SUBMITTED BY: RICHARD C. REHATCHEK