Coaldale – Ted Bortnick, John Horoschak, Mike Paslawsky and Jack Sweeney.

Banquet tickets can be purchased from the following Hall of Fame committee members: Danny McGinley 570-325-3550, Emmett McCall 570-645-2093, Vince Spisak (570-645-4542), Art George (610-826-2830), Jake Boyer (610-751-6634), Trevor Lawrence (570-645-4722), Bill Gardiner (570-669-6564), Bob Gelatko (570-645-8652), Evan Evans (570-645-7716), Tom Bonner (570-386-2516), Herb Welsh (570-760-1744). Tickets are $35 for adults. For children under 12, the cost is $15.

The following will be inducted representing Coaldale:

Ted Bortnick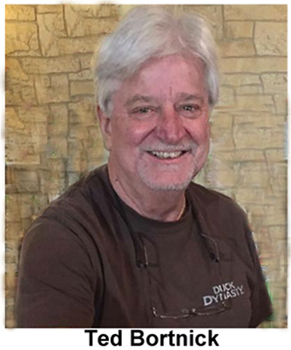 Ted Bortnick graduated in 1964 from Coaldale High School. Although he did not participate in high school athletics, he followed the Tigers in all sporting events.

After graduation from high school, he attended Penn State University for a brief period of time. He transferred to Bethlehem Business School to pursue a degree in accounting, graduating there with an associate's degree.

During the 1970s, Ted became involved with the Coaldale Little League and coached for several years. In 1981, while serving as Mayor of Coaldale, he helped to organize the C.H.O.S.E. organization. This organization included overseeing recreational activities for all children of all ages. During this time, he and other members started the Coaldale Mini Olympics. This activity was open to youngsters throughout the Panther Valley and surrounding areas.

Ted is a member of several civic organizations and is a charter member of the Carbon County Sports Hall of Fame, having served as its secretary/treasurer for several years.

He and Coaldale's town committee members worked together diligently to induct very worthy individuals from Coaldale High School, some dating back to the early 1920s.

Ted is retired from the Pennsylvania Turnpike Commission.

He has been married to his wife, the former Susan Zabroski, for 47 years. They reside in Coaldale.

John Horoschak

A powerful and speedy halfback and safety, John "Herman" Horoschak sparked the 1955-56-57 Coaldale Tigers to three consecutive victories over arch-rival Lansford.

During the Tigers' winning streak, in which Coaldale outscored the Panthers by a combined score of 72 to 13, "Herman" excelled on offense and defense, churned out massive chunks of yardage, scored in each of the three games, and romped for a total of five touchdowns of 39, 8, 68, 1 and 53 yards.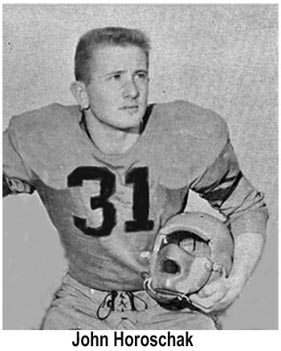 His outstanding senior season of 1957 resulted in him being chosen to the All-Panther Valley Team, the All-State (Honorable Mention) Team, and the prestigious Schuylkill County Dream Game squad.

John's performance in other heated rivalries during his career, under Coaldale coaches Bob Wear and Tom Leonard, was just as remarkable. For example, in the 1956 season, he tallied four touchdowns, including an 80-yard punt return, as the Tigers tattooed Blythe Township 50-0. He scored the Tigers' only points via a nifty 68-yard dash in a tough 13-6 loss to Tamaqua, and he scored the winning touchdown in a 13-6 victory over heavily-favored Schuylkill Haven.

In 1957, by scoring twice to lead the Tigers to a 27-6 victory over a high-flying Nesquehoning squad, he precipitated a school holiday the following Monday for the entire Coaldale student body.

While his primary expertise was in football, he also excelled for two seasons on the Tiger's basketball and track squads and as a power-hitter on various sandlot baseball teams. Although no official records exist, his towering home runs resulted in numerous dented hoods and broken windshields on many cars parked on Phillips Street near the left field fence at Coaldale's East End Field baseball diamond.

After turning down several scholarship offers upon his graduation from Coaldale High, John joined the U.S. Army and served in Germany during our country's Cold War with the Soviet Union.

Following his military service, John graduated from the former Bloomsburg State College and then owned and operated real estate businesses in Palmerton and Oklahoma City, OK. He passed away in 1997.

Mike "Puss" Paslawsky

A coal miner by day and sports superstar at night and on weekends, Coaldale's Mike 'Puss" Paslawsky was the quintessential coal region athlete of the 1920s and 30s.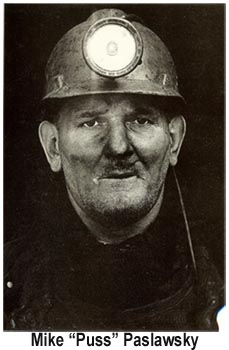 After working a 10-hour shift five days a week in Coaldale's No. 8 mine, "Puss" donned his baseball and football cleats to become one of the anthracite region's most feared, rugged and respected baseball pitchers and football fullbacks of his era.

"Puss" was the team manager and pitcher for Coaldale's St. John's "Greeks" from 1932-36 in the Panther Valley Church Baseball League, which comprised seven other Coaldale teams: St. Mary's "Russians," "Congregationalists," St. John's "Lithuanians," St. Cyril's "Slovaks," St. Mary's "Irish," St. Pat's "Irish" and the Seek "P.M.s."

A local sports journalist described Puss' pitching expertise as "artful twirling," and he was arguably the most feared pitcher in the league with a blazing fastball and a wicked "drop." News articles from that era show he produced for the "Greeks" many shutout wins, including in the Panther Valley Championship series at Ginter Stadium in Summit Hill, a near no-hitter spoiled in the ninth inning only by one scratch single engineered by John Minnick of the Summit Hill "Polish" team.

He also pitched for Muhlenberg College, and, in August, 1980, he was the designated guest of honor at the First Annual Coaldale Church Baseball League reunion banquet.

Mike was also a standout on the gridiron for Coaldale High School in the late 1920s. One news story of that time noted in the 1928 Coaldale-Lansford game, "Paslawsky, Swenson, Zukas and Phillips unleashed a powerful running attack that carried the Tigers to a 30-0 victory" over Lansford. That 1928 Coaldale team of his finished with a 7-0-1 record while scoring 253 points and shutting out every opponent except for Pine Grove, whom they beat 41-13.

In the early 1930s, he played fullback for the Coaldale Big Green gridders under the tutelage of legendary Big Green coach James H. "Casey" Gildea.

One of the last Panther Valley deep coal miners, "Puss" was honored in the 1960s as Anthracite Miner of the Year by the Lehigh Navigation and Coal Company.

Through his demonstrated work ethic and proven results on the baseball diamond, on the gridiron, and down deep in an anthracite coal mine, Mike "Puss" Paslawsky is a true hall-of-famer.

Jack Sweeney

Coaldale's Jack Sweeney has produced a lifetime of measurable success as a scholar-athlete, coach and educator, and as a Dad.

At Panther Valley High School in the early 1970s, Jack starred on the gridiron as a tailback, cornerback and punt-returner for coaches Rich Davidyock and Trevor Lawrence. He earned four letters as a first baseman for baseball Coach Bob Gelatko, and he played basketball for four years, the last under Coach Pip Rader.

In 1972, Jack was named as the Panther Valley High Scholar Athlete of the Year (ranked as No. 10 of 156 students) after amassing 1,500 all-purpose yards, winning the area scoring title with 14 TDs for 84 points, making the Big 33 Checklist in three separate weeks, helping his team earn the coveted P & B Trophy, and scoring a total of 20 TDs during his junior and senior seasons, when the Panthers achieved 7-3 and 8-2 records.

In 1977, he graduated with a bachelor of arts degree in health and physical education from Gettysyburg College after a successful career as a 5'7", 170-pound running back, inside linebacker and cornerback for coaches Jim Ward, Joe Sabol and Barry Streeter. Jack's blocked punt led to a victory over Western Maryland University in his senior season, and his aggressive tackling skills during his career helped Gettysburg attain victories over many other formidable teams in that era, such as Albright, Bucknell and Lafayette.

Over the next 35 years, after attaining a master's degree in education and athletic administration, Jack worked as a coach and educator at the college, high school and even sandlot levels to inspire and mentor numerous young athletes to achieve their own measurable success.

At Norwich University (Vermont), he was a graduate assistant coach for the football and track teams. At Lehigh University, he assisted in the football program. In Schnecksville and North Parkland, he helped build the skills of the athletes in the youth sports programs. At both Northern Lehigh and Emmaus High schools, he coached football. And, at Palmerton High School, he worked over the years as an elementary physical education, adapted physical education teacher, intramural coordinator, assistant elementary principal, and, in 1985, he served as the head football coach for the Blue Bombers, leading the team to a 9-3 record and a slot in the District 11 AA playoff final.

As a Dad, Jack teamed up with his wife, Cathy Wehr Sweeney, to produce two scholar-athletes. Their daughter, Mallory Sweeney Schmieder, won the state cross country championship at Parkland High School, graduated from Bucknell University and Seton Hall Law School, and is now an attorney. Their son Kale was a four-year football starter, Academic All-American and team captain at Johns Hopkins University, where he also earned a master's degree in his current career field of private sector public health.

Jack and Cathy are currently retired and reside in Schnecksville.
Source: https://www.tnonline.com/coaldale-will-have-four-inductees-carbon-county-hall-fame