CROSSING THE ATLANTIC ON "USS COALDALE" TROOP SHIP

Leaving Camp Kilmer by train, we traveled to a port somewhere on the Hudson River and boarded the "USS Coaldale"
troop-ship on March 21. Going up the gang plank, hovering over the space between the dock and the ship, I was tottering
along with my duffle-bag plus the trombone that I had purchased in Spartanburg. We crossed the Atlantic and sailed to Le
Havre, France, arriving on March 30, 1946, a distance of 3273 miles, traveling at an average speed of 17.30 knots. The "USS
Coaldale" was one of numerous troop-ships built hurriedly during World War II. The keel was laid on December 28, 1944,
launched two months later on February 23, 1945 and delivered on March 23, 1945. It would be interesting to know just

how many crossings of the Atlantic it had before we boarded it just a year later.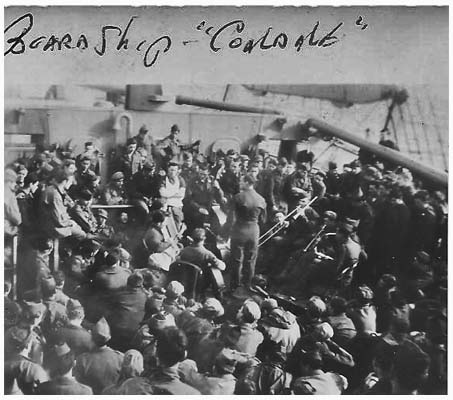 On board "USS Coaldale" – A Pick-up Band with accordion, clarinet, guitar, trombone.

While on board, I was assigned to the Special Services Unit which made public address system announcements and
published the daily newssheet "The Coaldale Tale." nIt was a very easy assignment for me. Each day I reported to the office
where the newssheet was typed and mimeographed. The one copy of the newssheet which I saved was of the ninth day at
sea with 398 miles yet to go. Being that we had a lot of time on our hands, I decided that I would begin to read through the
Bible. Having committed my life to Christ during the summer of 1944, I believed that I was being called to the ministry of
Jesus Christ. Possibly it would be a preaching ministry. But now I felt that my future was being put on hold and I was
somewhat troubled. Here I was with a lot of foul-mouth soldiers when I could be living among Christians and serving the
Lord. When I got to Genesis 37 and read of Joseph being sold by his brothers, I identified with him. What good could come
out of that? But as I read further, I saw what God was able to do through him even while away from family and home. I
soon saw the same thing in my own life - a story that is told in the part of my memoirs in the booklet, "Frankfurt Youth For
Christ."

(Editor and writer of the newsletter was William Zulker.)