The Last Strike of the Panther Valley's Deep Miners
(The Valley Gazette, March 1983)

George Harvan was on the scene to record with his camera the last strike of Panther Valley deep coal miners in June of 1954.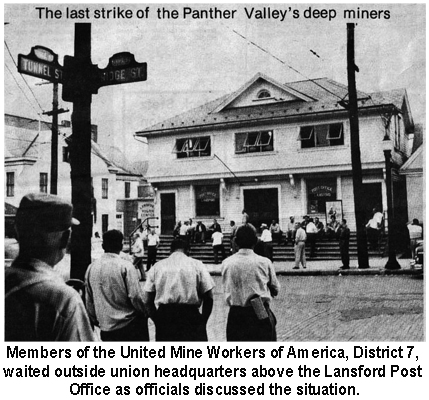 John Robin of Lansford, who served as general committee chairman during the strike, recalled that the issue was a layoff of men at the No. 14 Colliery near Tamaqua.

"Fourteen took the whole valley out on strike," said Robin as he identified some of the people on Harvan's pictures. "That's what the company was looking for. And we didn't go back and the company shut the collieries permanent…We played right into the company's hands. They were going to lay some men off at the breaker. If they want to lay men off, that's up to them. There were others laid off. We couldn't get it through to them."

Tom Kennedy was UMWA president at the time and union officials met with him in Hazleton, Robin added.

"He warned us the company was going to close the valley down if we didn't get back to work," he said.

Robin said he also received a telegram to that effect from John L. Lewis, who was then retired. He read that to the men, but it didn't have any effect either.

Fauzio Brothers then took over the operations and ran them through 1957, Robin said. He took a state job after that and worked until 1959, when he retired.