A hundred years of history

Reported on Monday, August 2, 2010

These were two of the many items included in a binder, compiled by Kalista's cousin's wife Carolyn Stachina, that was based on over 100 years of the Kalista family history. Sitting on Kalista's lap is the binder, which contains copies of family births, deaths, immigration dates, baptism certificates, marriage licenses, photos, and more. Next to him is the family's beagle, Bubbles Marie, who was a gift from their daughter when their son started college in 2005. Barnesville man receives a 'family jewel'

By AMY ZUBEK azubek@tnonline.com

In the time it takes to open a package, a century's worth of history can be revealed.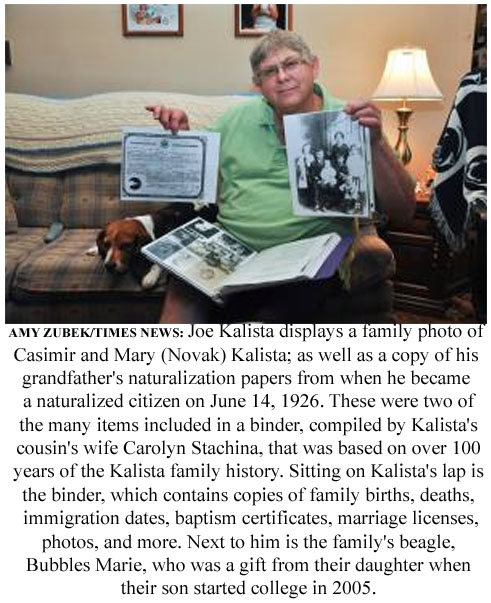 That's what happened to Joe Kalista.

On May 27, Kalista opened a package that he received a few weeks prior from his cousin's wife, Carolyn (Parizek) Stachina of Oneonta N.Y. Inside, he found a rare family jewel a binder filled with the rich history of the Kalista family, dating back to the birth of his grandparents, Casimir (Kazimier) and Mary (Novak) Kalista, in the late 1800s.

"I didn't realize I received the book for quite some time," said the former Panther Valley native who now resides in Barnesville with his wife Carol and their son Andrew. Their daughter, Elizabeth, lives in Virginia.

As he paged through the binder, he learned that his grandparents, who both immigrated to the United States from Poland in 1907, hadn't met until they were living in the U.S. and that their 100th wedding anniversary was two days away.

"When I opened the binder from Carolyn, I saw that May 29 marked the 100th anniversary for my grandparents."

That weekend, Kalista made a special trip to St. Peter and Paul Cemetery in Summit Hill to visit his grandparents' grave and take in the moment that surrounded a century of family history.

Following the visit, Kalista began to enjoy reading more about his ancestors. He learned that his grandparents became naturalized citizens years apart, had little schooling, were "staunch Democrats," and created a rich family history for their children, grandchildren and great-grandchildren.

Casimir and Mary's history began on March 4, 1888 when Casimir (originally spelled Kazimier) was born in Galacia, Poland. One year later, on March 11, Mary Novak was born in Jaroslaw, Poland.

In 1907, both Casimir and Mary immigrated with their families from Poland and arrived at Ellis Island, New York.

Casimir's spelling of his name was changed as the family entered the United States.

The families then settled in the Allentown and Coaldale areas and began their lives as Americans Casimir as a coal miner at Lehigh Navigation Coal Company No. 10 Colliery in Coaldale, and Mary in a cigar factory in Allentown.

Kalista said he is not sure how his grandparents met, but noted that on May 29, 1910, the couple wed in St. John the Baptist Greek Catholic Church in Lansford.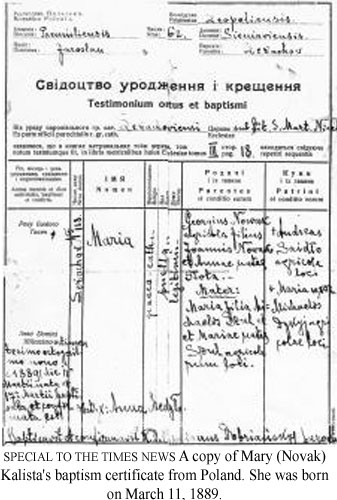 "The reason they were married in St. John's was that it was one of the few Catholic churches around at the time," he said as he showed a copy of his grandparents' marriage license.

The newlyweds purchased a home in Coaldale and in 1911, began a family. The couple had eight children: Sophie, Casimir Jr., Steven, Joseph, Martin, Katie, Frances, and Dorothy.

Kalista pointed out that his grandparents experienced the deaths of three of their children before both their passings in the mid-1900s. Casimir Jr. died as an infant, while Frances died in child birth at the age of 24. Sophie committed suicide at the age of 34 after a bitter divorce.

"I never knew about my aunt's tragic death," he said.

Within the pages of the binder, wedding photos, birthday parties, children's portraits, and life a century ago came alive before Kalista's eyes, giving faces to the many names and stories of his ancestors.

"I was so happy when I got this book," Kalista said as he continued to page through the binder, stopping to show off his grandmother's baptism certificate that was written in Polish; his grandparents' naturalization papers; and a pay stub from the time when his grandfather worked in the mines. "It's wonderful to know all this about my family."

Kalista became emotional as he paused at some of the pictures, remembering his time and experiences with his family over the years.

He shared some of the stories that he remembered from his childhood, noting that his uncles Steve and Joe were sergeants during their military careers; while his father, Martin, reached the rank of captain.

They were also talented musicians, he said, adding that he had heard Martin had the opportunity to play with the Dorsey Brothers.

Kalista also reminisced about his memories of the sadder times in his life; the deaths of his grandparents and his father.

"I remember coming home in 1958 from my gram's funeral," Kalista said. "I was 5 years old at the time."

Four years later, in October 1962, his father died in Paris, France.

"When dad died in Paris, they said it was from natural causes," Kalista said, adding that prior to his father's death, he was building his own home on Kahlers Hill in Hometown. The half-finished structure eventually had to be torn down due to the lack of funds to finish it.


"My grandfather, who took pride in how he dressed, went to my dad's funeral, and when he came home, he put on his pajamas and never left the house again (until his passing in 1963). He was so heartbroken."


The family believes that the reason his grandfather's sadness was so strong after Martin's death was because he had experienced too many of his children's deaths throughout his life.


"He was devastated," Kalista said.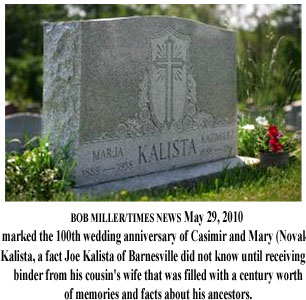 Kalista continued paging through the binder, and through the years of his genealogy.


Soon, color photos, taken by newer film cameras and then digital cameras, began to grace each page.


Kalista paused briefly on some pages filled with pictures, pointing out his uncles, aunts, cousins, and siblings; and later his children.


"They included all our family reunions, grandkids, weddings, deaths, little league pictures and more (in this binder)," he said, adding that the last few pages are now the beginning of the next chapter of his family's story.


The Kalista family has grown and flourished for over 100 years, becoming closer and stronger during their life and through death.

Kalista's hope is that this family jewel, both the binder and the relationships he has made with his family, will continue to grow and flourish for centuries to come.

On Aug. 8, the next chapter of the Kalista family will begin as Joe's cousin, Steve Kalista's youngest daughter, Anna, will wed Andrew Blankenship in Philadelphia.