Gbur Added to List of Tiger Greats

(Reading Eagle, May 28, 1960)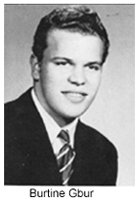 Except for a rags-to-riches story written by the basketball team in winning second-half Black Diamond League laurels, Coaldale partisans didn't have much to cheer about during the 1959-1960 term.

The famine started last fall when Coaldale failed to win a single football game for the first time in history. Similar disaster struck the Tigers' baseball squad this spring when the sport was revived after a lapse of 20 years.

But Coaldale came up with another individual star to add to the list of George Welsh, Bill Sproule, Tom Flyzik, Bernie Radocha, Franny Waice, Al Laigon, John Kuzman and others.


Burt Gbur proved he deserves a spot on the list by winning three gold medals in District 11 Class B track competition last week. The ambidextrous athlete captured first places in discus throw, shot put and high jump to account for 15 of Coaldale's 41 points.

Gbur didn't just "strike it rich" in the district meet. He won 10 of 13 events during Coaldale's abbreviated three-dual meet schedule this spring.

"Burt is a natural athlete in every sport," Coach Tom Raymer remarked at the district meet. "He has wonderful reflexes which make everything he does look easy. Any small college looking for a fine all-around athlete won't go wrong in Gbur."

It was the same boy who paved the way for Coaldale to win the second-half Black Diamond League (basketball) crown last winter. He finished among the top league scorers with 222 points in 12 games for an 18.5 per contest clip.