Badges dating back to the turn of the century and before are among those in the collection of Dan Ziegler of Lake Hauto, formerly of Coaldale.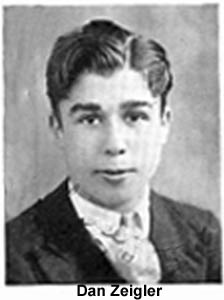 Ziegler is 72 now and closed out his career in law enforcement in 1983, with John Vanak operating the detective agency Ziegler took over from Charles Endy of Tamaqua in 1960.

There's a lot of history in the badges, which include a variety of types worn by the coal and iron police of various area coal companies, including the Lehigh Coal & Navigation Company of the Panther Valley and others from the Hazleton area—C. Pardee & Co. and the Cranberry Coal Co.

Carbon County deputy sheriff and U.S. Air Force Security Police badges are also in the collection.

Some of the coal and iron police badges may date back to the Molly Maguire era. Zeigler noted that the State Legislature eventually passed a law outlawing the coal companies' private police forces and after that their security had to be provided by detective agencies.

The first agency in the Panther Valley was operated by Charles Stanley, who had nine men working for him during World war II in the 1940's, Dan reported.

After Stanley died, Frank McCartney, who later became head of the Pennsylvania State Police, took over the detective agency and when McCartney became a state investigator the agency was taken over by Endy, Ziegler added.

Considerable expansion of the agency occurred after Ziegler took over the agency following Endy's death and the list of clients included the Greenwood mining and stripping corporations, Blue Ridge Real Estate Co., Lehigh Navigation-Dodson Sales Co., Lansford-Coaldale Joint Water Authority…and many more.

At its peak the Ziegler Detective Agency had between 60 and 70 employees with contracts from the Poconos to Reading and also handled insurance investigations for the Central Railroad of New Jersey, the Lehigh and New England Railroad and various law firms.

Ziegler, a 1933 graduate of Coaldale High School, also worked for the Bethlehem Steel Co. police and served as fire chief in Coaldale from 1969 to 1971.