Foes Found It Didn"t Pay to Go One-on-One against "Blue" Bonner

(by James H. Gildea, The Valley Gazette, October 1976)


I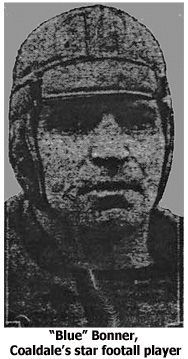 put this question to Bill "Honeyboy" Evans: "Who is the most colorful player on the Coaldale Big Green?"

"That's not for me to say" was his spontaneous answer. That answer was typical of the team as a whole. Each and every one of them considered himself the best. That attitude made the "Big Green' famous.

"Blue" Bonner made many outstanding plays, both on offense and defense. He had a hip movement on defense that shattered many outstanding players. Two games at Conshohocken well illustrate Blue's worth to the team.

On Coaldale's first visit to Conshohocken they ran into a star-studded team. The pick of the college world was in Conshohocken uniforms. "Pud" Day, who played pro football for Canton, was at one of the tackles. Billy Powell played quarterback on offense and safety man on defense. The game was nearing its closing moments when Blue broke loose and went 60 yards to a touchdown. On his way up the field he was just one-yard inside the sideline stripe. Powell saw in that nearness the way to save the game for Conshohocken. At top speed he crashed into Blue, only to find as many others did that you did not knock Blue off stride. He met Blue with full force, only to bounce back and wonder why he did not go all-out for a game-saving tackle.

One year later the Big Green was back at Conshohocken for a return engagement. Again the Conshohocken team had been reinforced by available college stars. Pud Day was back and with him as fine a line as you could care to see. Conshohocken lived up to promise. The team had a 14-0 lead at halftime. Col. Johnson, a Pennsylvania Railroad executive, main backer of the team, visited the Coaldale bench at halftime and, seeking to ease the 14-0 strain, told the writer this story: Don't feel bad about your defeat. We will always be glad here at Conshohocken to welcome you back next year."

Gildea's reaction was the same as the Big Green reaction: "Save your condolences until after the final whistle."


In the second half Conshohocken was in possession of the ball on fourth down. A punt was called. The ball sailed gracefully over the head of Len Lithgow, Coaldale's safety man. A fast-charging Conshohocken man was down the field quick as a flash to touch the ball down. His mistake was that he did not retain possession of the ball. Touching it down, he paid no attention to Lithgow, who came down the field in full stride, picked it up and raced downfield and across Conshohocken"s goal line for an uncontested Coaldale touchdown.

"It can't be," was Conshohocken's reaction to the play, but it was. The referee, a Mr. Geiges, of Frankford, fell in behind Lithgow and escorted him across the Conshohocken goal line. Joe Garland added the extra point, but the Big Green was still on the short end of a 14-7 score.

The game went on with stirring plays from both teams. Then in the final moments Blue Bonner intercepted a Conshohocken pass inside his own 20-yard line and he was off up the field 80 yards to the Conshohocken goal line.

Earl Potteiger was playing safety for Conshohocken. Potteiger was both big and fast. He was coming in on Blue at about the Conshohocken 20-yard line. Blue sensed the angle favored the Conshie back and he turned deliberately and ran into the Pottstown man. Potteiger went down and Blue went across for the score, making it Conshohocken 14, Coaldale 13.

Everything depended on Garland's kick. "Make it good", Blue told him. Big Joe promptly did and the game ended in a 14-14 tie.

Atlantic City seemed to be Blue's favorite stamping ground. He had many clashes with both players and fans at Atlantic City. Mayor Bader organized the Blue Tornadoes and went all-out to give the shore a champion football team.

The Tornadoes had an excellent team, one back in particular being a hard man to stop. He never considered himself stopped until he was sat upon unceremoniously. Near the Coaldale bench he made a desperate effort to work himself free after being tackled. Blue, turning to me, said: "Are you going to let me sit here until he does break free?" So in went Blue. On the very next play the back in question broke into the clear in Blue territory. It was blue for the unfortunate back. Blue Bonner hit him full-on and knocked him out over the sidelines and into the wire fence.

"Whitey" Thomas, former Penn star, resented the occurrence. He started a punch from 20 yards out and rushing in he landed it full tilt on Blue's nose. Thomas went down under the rush of Blue's teammates. He yelped under the blows and kicks but eventually the scuffle was stopped and Blue went to the hospital to have his nose straightened out. Years later, Whitey's wife called me, saying, "Whitey is in the hospital with a deadly attack of cancer. He regrets what he did to Blue Bonner and could ask nothing better than an opportunity to express his regrets to Blue personally."

At the time Blue was making a trip to Temple Hospital every other week and was scheduled to be there the Thursday following the phone call. The meeting was arranged. Blue met Whitey on his next visit to Temple. Thomas was all apologies, expressing deep concern for any follow-up affliction.

It's the other way around, said Blue. "I have had my nose broken several times and never had the cartilage properly removed. This time they did a perfect job on it and my nose never felt better."

So the two keen rivals shook hands and while both realized they were near the final goal line they thought it was simply wonderful to find the joy of realizing they were both pretty much the same down underneath.

Coal region rivalry found Blue at his best. His hip was particularly effective against the speedy backs other regional teams took in. He knocked Joe Dumoe flat in a Coaldale-Shenandoah game and the next week he received as many "Black Hand" letters as the mailman could carry. The tenor of the letters was, "Stay home. We don't want to see you in Shenandoah." Come Sunday they did see him as did Kenyon, a Georgetown star imported for the game. The first time Kenyon broke into the open Blue hit him and visions of what might happen could have daunted a less determined man.

Blue Bonner played football to win. He could not stand for half-way measures. Coaldale lost a game at Lancaster. Gary Miller was in the lineup. Gary carried his ukulele to the game. In the bus starting home he got it out and tuning it up he attracted Blue's attention.

"One more toot out of that noisemaker and I'll throw both you and the uke to hell off the bus,' was Blue's comment.

That was the Blue Bonner of Coaldale's football hey days.