Coaldale Store Closes as Steve Vahovich Retires
(by Ed Gildea, The Valley Gazette, April 1979)

Another institution has been phased out in Coaldale.

On Friday, March 23, 1979, Steve Vahovich closed the store he operated on the corner of Phillips and Third Streets for the past 60 years.

On the bus stop corner across the street from the bank, the store served as the town's 5 & 10 since the beginning of the era of the Big Green.

Featuring a varied line of merchandise running from thread to plumbing supplies, Vahovich's store was known as a place where the proprietor could usually come up with whatever you wanted.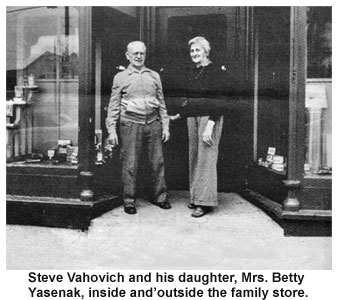 Over the years, the store with the bright red front evolved from a shoemaker shop to a general store.

Vahovich started in business as a shoemaker in 1914 in an old shack next to Schonberger's store around the corner from his present location on Third Street.

In 1919 he moved to the corner location, where he eventually started selling candy in addition to repairing shoes. Then he started selling ice cream and other things. He expanded the small building several times, adding to the store area and the living quarters in the rear.

Vahovich was about 22 years old when he came to America from Czechoslovakia in 1912. He worked at No. 6 Colliery in Lansford for two years before going into business for himself as a shoemaker, a trade he learned in the Old Country.

He wasn't too good at arithmetic at first, but a firend taught him what he needed to know about making change and he got to be so adept he can still calculate with surprising quickness.

"My wife was my secretary," he said. She is the former Ella Sotak of Hauto.

The couple has three daughters, Betty, wife of Paul Yasenak of Grand Haven, Mich.; Mrs. Margaret Pohlod of Howell, N.J., and Mrs. Mildred Sotak of Lebanon, and a son, Stephen Vahovich of Tacoma Park, Md. They also have eight grandchildren.

Vahovich has a sister, Pauline, and a brother, John, who still live in Humenna, Czechoslovakia, and who correspond about twice a year. He hasn't been back to the Old Country since he made the trip across the Atlantic as a young man, so he hasn't seen them since he left in 1912.

His brother, Frank, now deceased, came to America about 12 years before Steve. Frank's son, John, still operates a store at Abbott and Cortright streets in Lansford.

Now 88, Steve Vahovich has decided the time has come to retire. He held a month-long sale to dispose of what's left of his merchandise. The building is for sale. He plans to go to Michigan to live with his daughter.

Like the Coaldale Observer, Vahovich's store will soon be a memory.

Told that people were going to miss the store, Vahovich said, "I'm going to miss it."