John J. Radocha ..................................Times News .....................May 17, 2005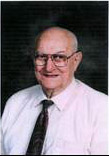 John J. Radocha
John J. "Yano" Radocha, 84, of 106 Sixth St., Coaldale, died Monday in his residence. He was the husband of the late Mary (Agosti) Radocha, who died in 1989.


Prior to retiring, he had been employed as a butcher at the former D Supermarket, Coaldale, for 30 years. He had also been employed in the Panther Valley Middle School as a custodian and for Lehigh Navigation and Coal in the No. 9 and 11 Mines.


Born in Coaldale, he was a son of the late John and Annatola (Toman) Radocha.


A veteran of World War II, he served in the China, Burma and India Theaters.


He was a member of SS. Cyril and Methodius Catholic Church, Coaldale.


Mayor of Coaldale for 12 years, he was also a town constable and a former member of the Coaldale Board of Health.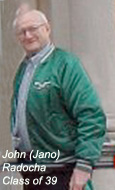 A 1939 graduate of the former Coaldale High School, he was a life member of the AmVets and Italian Club, both of Lansford; a member of the American Legion; the VFW; the Rod and Gun Club; the Russian Club, all of Coaldale; the Tamaqua Lions and BPO Elks Clubs; the Lansford Visiting Nurse; and the Carbon/Schuylkill Industrial Development Corp.


Surviving are a daughter, Janet M., wife of Joseph Kupec of Lansford; a sister, Mildred Krajnak of Coaldale; two grandchildren; nieces and nephews.


He was also preceded in death by a sister, Hedy Galgoci; and two brothers, William and Joseph.


The August M. Gulla Funeral Home, 130 E. Ridge St., Coaldale, is in charge of arrangements.