West, Louise E.
Louise E. West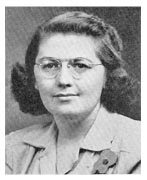 Louise E. West, 90, of Coaldale, died Thursday, Jan. 22, in the St. Luke's Miners Memorial Hospital, Coaldale.


She taught for 28 years in the West Chester School District before retiring in 1980, and previously had taught for 11 years in Coaldale.


Born in Coaldale, she was a daughter of the late Thomas and Louisa (Bahrt) West.


She was a graduate of the former Coaldale High School and matriculated to Susquehanna University, Selinsgrove, Pa., and earned her master's degree from Columbia University.


The deceased was a member of the Coaldale Women's Club and St. John Evangelical Lutheran Church, Tamaqua, and was active in the Public School Employees Retirement Association and D.V.R.A. Recreation Association. She was also an avid alumnus of Susquehanna University.


She was also preceded in death by a brother, Thomas B.


Service: Funeral service 11 a.m. Saturday, Jan. 31, E. Franklin Griffiths Funeral Home, 655 E. Broad St., Tamaqua, with the Rev. Phyllis Wolford officiating. Interment, Odd Fellows Cemetery, Tamaqua. Call 9:30-11 a.m. Saturday. Contributions in her name may be made to St. John Evangelical Lutheran Church, Pine and Mauch Chunk streets, Tamaqua, Pa. 18252. Online registry and condolences may be signed at www.griffithsfuneralhomes.com.


Published in the Times News on 1/29/2009