Original press release by Panama Canal Authority at:
http://tinyurl.com/b49f7
Canal History » Governors and Administrators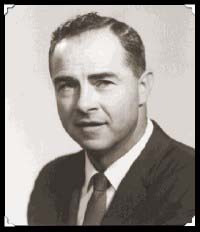 HAROLD PARFITT
1975-1979
Harold Parffitt was born in Coaldale, Pennsylvania, on August 6, 1921, the son of William Parfitt and Elizabeth Patterson Parfitt. He graduated from the United States Military Academy at West Point in 1943; graduated from the Massachusetts Institute of Technology in 1948; graduated from the Command and General Staff College in 1955; Canadian National Defense College in 1962; and from an advanced management program at Harvard in 1967. He married Patricia Rose Scully on June 4, 1955.

Parfitt was commissioned second lieutenant of the U.S. Army in 1943; advanced through the ranks to major general in 1971. He served as commanding general, United States Army Engineer Center/ Commandant, United States Engineer School at Fort Belvoir, Virginia, from late 1973 to March 1975.

He was Deputy, and later District Engineer of the Engineer Division, South Atlantic, in Jacksonville, Florida, from August 1962 to May 1965. In June 1965, he became lieutenant governor of the Canal Zone and vice president of the Panama Canal Company, serving until September 1968.

From December 1969 to August 1973, he was division engineer, U.S. Army Engineer Division, Southwest, Dallas, Texas. Parfitt was commanding officer of the 20th Engineer Brigade in Vietnam from November 1968 to November 1969.


Parfitt was appointed as Governor of the Panama Canal Zone on April 1, 1975, and served in that position until September 30, 1979.


Under his administration, General Parfitt was more aware of the realities and sensitivities arising from operation of the Panama Canal in Panamanian territory than most other Canal administrators. Much support was given to the learner-apprenticeship programs as vital phase of the Company/Government agencies; recommended the termination of separate school for Latin American students, and changed the housing regulations to consolidate housing formerly assigned separately to U.S. citizens and non-U.S. citizens. Under his government, also, the Canal has its second increase of toll rates in 1976, and the United States and Panama signed the new Panama Canal treaty on September 7, 1977.


Parfitt was the last of the governors of the Panama Canal.
----------------------------------------------------------------------------------------------------
Below, on this date....................................Times News.............

May 9, 1940

Harold Parfitt, son of Mr. and Mrs. William Parfitt of Coaldale, has been appointed to the United States Military Academy at West Point and will report there to begin training on July 1. Parfitt, who graduated from Coaldale High School in 1938, took a year of study at Kutztown Teachers College, then, with West Point as his dream, entered the Washington Military Academy. This is the first time in the history of Coaldale that one of the town's young men has won an appointment to either the military or the naval academy.

----------------------------------------------------------------------------------------------------
The Class of 1938, (year that Harold Parfitt graduated) is found on the following link.