May 29, 2007 .........Times News



Two mothers, two wars, two losses As gold star mothers look on, Coaldale dedicates war memorial


By RICHARD FUNKrfunktnonline.com

Gold Star Mothers Mrs. Louis Nesterak, left, and Ann Adams were in attendance during Sunday's Memorial Day observation in Coaldale. Nesterak lost her son, Norman, during the war in Vietnam, while Adams' son, A.J. Baddick, died while serving in Iraq.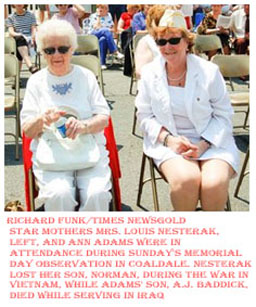 They sat side by side; two women separated by years and wars, but forever joined by the pain of losing their sons in conflicts thousands of miles away from their Carbon County homes.

Gold Star Mothers Mrs. Louis Nesterak and Ann Adams were in attendance at Sunday's Memorial Day observance in Coaldale and were among those who remembered this nation's men and women who made the ultimate sacrifice while serving our nation.

"Heroes are men and women who place themselves at risk, often under conditions of abject fear, for the benefit of others," the event's main speaker, William Gaddes, told the large group who gathered at the borough building and adjacent war memorial. "My cousin Ann's son, Sergeant A.J. (Andrew Joseph) Baddick, of Jim Thorpe, was such a hero."

It was on Sept. 29, 2003 that Baddick, 26, of Jim Thorpe, attempted to rescue two soldiers, when their Humvee sank in the Tiber River.

"He saved the first soldier, but drowned on the second attempt," Gaddes said. "He was awarded the Soldier's Medal and his mother is active with the Gold Star Mother's Association. She is involved in helping wounded warriors and their families at Walter Reed Medical Center. Ann, our hearts go out to you in grief for your terrible loss. Your son was a true hero and he deserves our eternal thanks."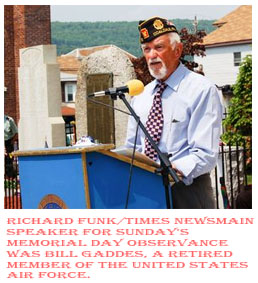 Baddick may have rescued more than two fellow servicemen - according to an eyewitness to the event, he "went in ... in a flash ... and was able to get four men out of the truck."

Nesterak has the distinction of being Coaldale's last surviving Gold Star Mother, and Gaddes said she will be pictured on the Woman's Memorial. Her son, Captain Norman Nesterak, a Coaldale High School and West Point graduate, died on Sept. 3, 1969 in Bing Long, South Vietnam. Norman was married to the former Brenda Hoffman, of Coaldale and was 24-years-old when his helicopter crashed.

Sunday's ceremony also featured a "thank you" award, presented to Steven Tentylo, who was instrumental in the construction of the war memorial. Tentylo, a World War II veteran, said the memorial was "long overdue."

"On behalf of the memorial committee, I wish to thank you for your support ... our success is built on the contributions of you and others from Coaldale and the surrounding areas," Tentylo said after accepting the award.

Gaddes said that while scraping and painting the fence surrounding the memorial, he studied the granite columns there.

"The large column contains the names of 47 men who served in the Civil War and six names of those who served in the Spanish-American War," he told the audience. "My great uncle, Jones Gaddes, served in that war in Cuba."

The memorial also contains the names of 270 men who served during World War I and 1,336 from the borough who served in World War II, Korea and Vietnam. According to Tentylo, more than 20 percent of the men from the borough served during the second world war.


On hand for the observance were cadets from the Panther Valley Junior ROTC program, the Panther Valley High School Band and representatives from Veterans of Foreign Wars Post 8926 and American Legion Post 170.


Deceased Coaldale veterans since Memorial Day 2006 are: James "Pee Wee" McLaughlin, Harry B. Schaefer, Harold T. Parfitt, John Piech, John B. Stanalis, Michael A. "Mitch" Meck, William J. Morrall, John Benyo, Andrew F. "King" Zwiesdak, Leonard R. "Lenny" Weiksner, Ernest P. Mayernik, John R. Eckert, Timko Warcholak, Michael Kotus, Edward P. Walsh, John, M. Zalesak, James B. Price, Lawrence P. Stone, Lawrence B. Sabol, Nicholas Padaroff, Gregory P. Machay Sr., William R. Murphy St., John Warcholak, Joseph J. Zalesak, John. M. Pastucka, David J. Dally Jr., John J. "Bluejay" Velitsky, Robert W. Hollenbach, John Polifka, William "Cutter" Weaver, Peter King, Edward L. Gallagher, William R. "Beaver" Bevich, and William J. "Billy" Dougherty.



May 28, 2007...........The Morning Call



World War II monument presented in Coaldale

Memorial Day service highlights veterans' names in stone.

By Ashley Kosciolek Special to the Morning Call

Dozens of people lined Third Street in Coaldale on Sunday for a Memorial Day service that officially presented the borough's new World War II memorial.

The event was organized by the Coaldale United Veterans Organization, American Legion Post 170 and Veterans of Foreign Wars Post 6982.

The memorial, which displays the names of 1,336 Coaldale World War II veterans, stands next to Borough Hall. It joins three other memorials, honoring veterans of the Civil War, the Spanish-American War, World War I and the Vietnam War, as well as area World War II GIs killed in action.

The World War II memorial, which was officially dedicated in October 2006, is the result of the efforts of Steve Tentylo and the World War II Memorial Committee.


''This was 60 years overdue,'' said Tentylo, a World War II veteran who said he knew personally most of the men whose names appear on the memorial.


He noted that more than 20 percent of the male population of Coaldale served in that war.


Tentylo also said that five additional stones will be added to the current 15 to honor veterans of the Vietnam and Korean wars.


Although the committee received two small grants from the state, most of the $67,000 project was funded by members of the community who donated money or purchased bricks, on which their names or names of loved ones were carved.


The bricks were then used to build a walkway to the memorial. About 480 bricks were sold at $50 apiece.


''It was a grass-roots effort, and we're very proud of that'' said William Gaddes, the memorial's designer.


Gaddes, who served in the Air Force during the Korean War, was also a speaker at Sunday's event.


''We must recognize that our freedom and democracy are based on past generations,'' Gaddes said. ''We must be faithful to our past and the significance of past events.''


Gaddes later said that plans for a women's memorial are in the works.


The memorial, which Gaddes hopes will be completed by next Memorial Day, will be a wishing well. Seven feet in diameter, the structure will feature black granite panels around the sides and a tile roof to honor all women who served or lost loved ones in wars.


Ashley Kosciolek is a freelance writer.